SCHUMER REVEALS: FEDS NOW HAVE NEW SURGE IN CDC FUNDS THAT CAN FIGHT TICK-BORNE DISEASES ACROSS LI, BUT THE DOLLARS TO TRACK, TREAT & PREVENT TICK-BORNE DISEASE COULD SIT IN LIMBO AS TICK SEASON HEATS UP; SENATOR LAUNCHES MAJOR PUSH TO UNLOCK FUNDS SO LOCALS CAN USE THEM NOW, NOT AFTER DISEASE CASES SPIKE & PUBLIC IN WORRY
---
New York Is Target #1 For Ticks & LI Is At The Epicenter Of Tick-Borne Diseases Like Lyme, Babesea & Anaplasma; Schumer & Local Public Health Officials Warn As Summer Heats Up, Ticks Will Multiply & Many People, Especially Kids, Could Be Stricken With Illness; But We Can And Should Do More To Head Upcoming Tick Season On LI Off At Pass 
Schumer Reveals That Just-Passed Bipartisan Fed Budget Deal That President Trump Signed Into Law Includes $900M More In CDC Dollars That LI Deserves & Needs; Senator Makes Urgent Case For Feds To Unlock These Dollars & Swiftly Deliver Them To LI 
Schumer: The Feds Need To Send In The Dollars LI Needs To Fight The Tick War    
On the heels of a just-in and shocking Centers for Disease Control (CDC) report that warns tick infections are rapidly spreading and with Long Island temperatures now spiking to the tick-loving 80s, U.S. Senate Minority Leader Charles E. Schumer today revealed that the Centers for Disease Control (CDC) can do more to actively support the all-out local war against tick-borne diseases. Specifically, Schumer detailed that the feds are sitting on a new surge in CDC dollars--$900M more than last year to be exact—that can be tapped to fight tick-borne diseases across Long Island by helping to track, treat and prevent tick-borne illness. But that – without urgent action – those same dollars could sit in bureaucratic limbo just as Long Island's tick population explodes this summer.  Specifically, Schumer is pushing to unlock these new federal dollars, from the recently-passed bipartisan federal spending bill  President Trump signed into law—so public health officials across the Island can use them now, not after disease cases and public anxiety spikes.
"When it comes to our exploding tick-borne disease problem, Long Island has been feeling the brunt of the brutal bite for years and would greatly benefit from an increase in federal funding necessary to head this tick season off at the pass," said U.S. Senator Charles Schumer. "The good news here is that we have the money, thanks to the just-passed bi-partisan federal spending bill I negotiated and President Trump signed. The bad news is that under the current system, by the time these federal dollars make their way to critical communities like Long Island, the tick season could be well underway, or worse, over. That's why, today, I am turning up the spotlight on Long Island's tick plight and urging the CDC to use the increase in funding we directed their way to do more to help the counties fight tick-borne diseases like Lyme, Babesea and Anaplasma. I want some of the newly directed dollars given to the CDC to land here on Long Island before ticks takeoff, not after. The bottom line is that the feds need to send in the dollars Long Island needs to not just fight the tick war, but to win. We need help tracking, treating and preventing tick-borne diseases, which is why I fought so hard for these additional CDC dollars in the first place."  
Schumer also detailed data that shows New York, and Long Island especially, remain amongst target #1 for ticks—more than anywhere else in America—this upcoming summer. Schumer broke down cases from last summer and local public health efforts to track, treat and prevent the Long Island tick-borne disease plight. Schumer said these efforts are critical as he made the case for the feds to send in the dollars locals need to fend off ticks and the diseases they harbor. Schumer said it is vital for the CDC to use some of its additional $900 million budget increase—total budget of roughly $8B—to immediately address tick-borne illnesses like Lyme, Babesea, Anaplasma and others that have plagued Long Island. Specifically, Schumer said the CDC must use this new funding to amplify local prevention efforts across Long Island. The new funding could help New York State Health Department (NYSDOH) and local health departments improve their prevention and tracking efforts.
"There is nothing more important than the health and safety of the public. We thank Senator Schumer for once again putting people first and ensuring that this funding is available to protect our residents from tick-borne diseases before they are contracted", said Nassau County Executive Laura Curran.
"Tick-borne disease has become a national public health crisis that demands an aggressive and comprehensive response from our federal government.  While Suffolk County is leading the way with innovative research and preventative measures, we need Washington to step up to the plate to ensure we have the resources needed to get the job done.  I applaud Senator Schumer for his willingness to identify this problem for what it is on Long Island and give our counties the dollars we need to be successful in this fight," said Suffolk County Executive Steve Bellone.
"On behalf of Cornell University and Cornell Cooperative Extension I would like to thank Senator Chuck Schumer for his tireless efforts to support Lyme Disease and tick research and outreach. Without public funding, these activities could not happen. With the near tripling of the number of cases of vector borne diseases since 2004, Cornell University is prepared to provide the research and outreach needed in the Northeast for increasing our scientific knowledge and public awareness on disease risk and mitigation. We are also ready to train a new cadre of public health scientists who will have the skills to address vector borne disease directly, in the field and laboratory. Cornell Cooperative Extension is prepared to serve the residents of New York by raising community awareness about personal safety and tick management that makes sense. All of these activities rely on the support of public funding, so again, I thank Senator Schumer for his attention to Lyme Disease and other tick-borne diseases," said Dr. Jody Gangloff-Kaufman, an entomologist with the Cornell Cooperative Extension.
The CDC, in a shocking announcement yesterday, reported that the number of Americans infected with Lyme disease is likely 8-10 times higher than the number reported, underlining the urgent need to help state and local health departments identify and treat those who become infected.  Schumer said it is critical the CDC make sure these resources are disseminated as widely as possible in high impact areas across Long Island, and in Suffolk County especially. Schumer also called on the CDC to develop a special community education and outreach program to make sure people are aware of how they can prevent tick bites, as well as continue to expand its continuing medical education (CME) program so that health care providers are fully equipped to recognize and treat tick-borne illnesses in the emergency room or during primary care visits where initial symptoms might reveal themselves.
Lyme disease is a bacterial infection carried by deer ticks, which can be transmitted by a bite to a human or animal host. If left untreated, the bacterium Borrelia burgdorferi travels through the bloodstream, manifests itself in body tissues, and causes mild or severe symptoms, depending on the case. Lyme disease begins as a rash at the location of the tick bite and then spreads to the nervous system and joints. Early diagnosis and antibiotic treatment are crucial to recovery. With early diagnosis, Lyme disease is cured almost 100 percent of the time. The disease is most prevalent on the Upper East Coast and Midwest, especially in densely wooded areas with an aptitude for humidity.
According to health data compiled by Schumer's office, the tick-borne disease trend has not let up in recent years and Long Island stands out as severely hard-hit when compared to the rest of New York in the number of cases of serious tick-borne diseases, like Lyme, Babesea and Anaplasma, as seen below: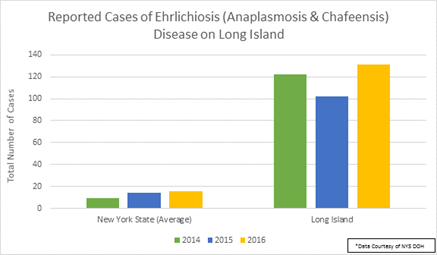 Schumer has long pushed for federal funding for the prevention, diagnosis, and treatment of tick-borne illnesses like Lyme, which has seen an increase in cases across New York State. Recently, during an in-person meeting with CDC Director Dr. Robert Redfield, Schumer pushed for a got a firm commitment from the director that he would be working to address Lyme across Long Island and beyond. Additionally, Schumer played an integral role in securing new funding for the CDC in the recently passed omnibus — Schumer, one of 4 negotiators, secured $8.005 billion in the federal funding for the CDC, a $900 million increase from FY17. Schumer said this new funding could be used to research and prevent tick-borne illnesses like Lyme disease. Schumer also helped secure a historic $3 billion increase in NIH funding, which can be used to expand and build upon existing NIH-funded Lyme disease research that is already occurring at New York institutions such as Stony Brook, Columbia University, in the SUNY system and at Hunter College.
###