SCHUMER: WITH LIFESAVING FED FIRE DEPARTMENT FUNDING AT RISK OF ELIMINATION, PROGRAMS THAT HAVE PROVIDED OVER $23 MILLION TO HUDSON VALLEY FIREFIGHTERS IN RECENT YEARS, SENATOR WILL REVEAL FOR FIRST TIME HIS PLAN TO PASS A NEW BILL BY THE END OF THIS MONTH TO SAVE THESE PROGRAMS
---
Schumer-Created Programs—AFG & SAFER—Are Critical Funding Streams That Have Provided Over $15.5 Million To Westchester & Putnam County Fire Departments In Just The Past Three Years To Staff And Equip Firefighters – But Without Fed Action This Funding Will Run Out In 2023
As Majority Leader, Schumer Has Shepherded Legislation To Save These Programs To The Senate Floor And Will Work To Pass This Bill This Month And Show Who Stands With Firefighters 
Schumer: It's Time To Put On Our Boots, Throw Some Cold Water On These Cuts, & Rescue NY Fire Department Funding
Standing at the Cold Spring Fire Company with local fire chiefs and officials, with the main federal firefighter funding programs – the Assistance to Firefighters Grant (AFG) Program and Staffing for Adequate Fire and Emergency Response (SAFER) Program – at risk of being totally eliminated this year, U.S. Senate Majority Leader Charles E. Schumer today revealed his plan to rally support to pass the Fire Grants and Safety Act of 2023 in the Senate by the end of this month to save these programs that have provided $23 million to Hudson Valley firefighters in the past three years alone.
"From smaller communities like those here in Putnam County, to our major cities like Yonkers and Poughkeepsie, the AFG and SAFER programs are lifelines that have delivered over $23 million in federal funding to our Hudson Valley firefighters in just the past three years; we can't let these programs go up in smoke. These are desperately needed federal dollars for new fire trucks, better equipment, and to hire more firefighters in the Hudson Valley communities that need them most," said Senator Schumer. "As majority leader, I am officially announcing that I have put Fire Grants and Safety Act on the Senate floor, and shepherded it through the initial hurdles, priming the Senate to pass this life-saving legislation when we return next week. I am calling on my colleagues to join me in passing a clean bill this month, our firefighters have waited long enough. I've fought my whole career to bring more support to our brave firefighters, every day they save lives and I promise that I will not stop holding congressional feet to the fire until we pass this bill and save this federal lifeline for our New York fire departments and first responders."
"It is my job to keep our firefighters safe," said Cold Spring Fire Chief Jeffrey Phillips, Jr, "Funding is important to ensure they have the training, equipment, and resources they need when they are out risking their lives."
"We appreciate Senator Schumer visiting Cold Spring today to fight for federal money for fire departments like ours who operate on thin margins and need the extra boost. We look forward to working with him to apply for future funding once the SAFER and AFG programs are reauthorized," said President of the Cold Spring Fire Department Aaron Leonard (Ret). "Firefighters are already spending most of their time in training drills and maintaining our apparatus and equipment, it should not fall to them to acquire the funding they need to ensure they can do their jobs safely and effectively."
"I want to thank Leader Schumer for once again having our backs and being a champion for firefighters and the fire service. These federal grant programs have delivered millions of dollars to departments and municipalities to get us the equipment and staffing levels that we need to respond to fires and countless other emergency calls as safely and efficiently as possible. We appreciate Leader Schumer bringing this bill to the floor of the Senate so that these lifesaving grant programs might continue to help our firefighters and our citizens," said Sam Fresina, President, NYS Professional Firefighters Association.
Schumer originally helped create the Assistance to Firefighters Grant (AFG) Program in 1999, which later expanded to also include the Staffing for Adequate Fire and Emergency Response (SAFER) Program, and the Fire Prevention and Safety (FP&S) programs. Schumer explained that these federal programs have been a lifeline for firefighters and have become essential to their continued operations, especially in smaller and more rural counties. Fire departments, like those in the Hudson Valley, often face budget shortfalls and extremely high costs that mean they cannot purchase the modern equipment they need to combat emergencies while keeping firefighters safe. For example, a modern pumper truck can cost well over $750,000, while ladder trucks routinely cost over $1 million.  And it costs roughly $12,000 to outfit a firefighter in protective gear and breathing apparatus.  Due to the extreme nature of the job, equipment can often become damaged and need to be replaced at enormous cost, especially for smaller communities like those in Putnam County.
Schumer warned that, "Over the last 20 years, these programs have delivered nearly $700 million in federal funding to New York firefighters and first responders, but if new legislation doesn't pass, Hudson Valley fire departments will not be able to access this funding next year. These brave firefighters risk their lives for us every single day and now we must fight to get them the funding they deserve."
Schumer said that barring action through legislation, these programs are only authorized for funding through Fiscal Year 2023, meaning FEMA would is unable to accept any additional funding requests for next year. The programs sunset next year, meaning all the of technical assistance that FEMA provides for ongoing grants would also cease next year. Since the start of these programs in 2002, the grants have delivered nearly $700 million in federal funding to NY firefighters. Schumer said that losing this funding would be felt especially hard for Hudson Valley Region firefighters, who have received over $23 million in federal funding through these programs in just the past three years.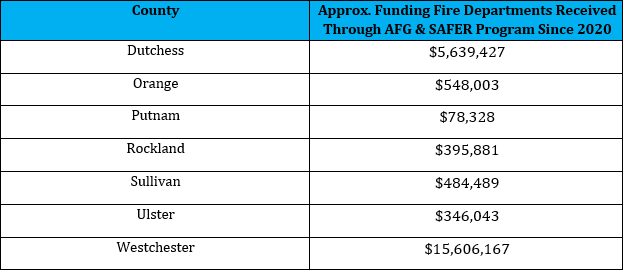 Schumer said that if the programs were to cease that would mean lifesaving equipment and the hundreds of New York firefighters that have been hired, or recruited in the case of volunteer departments, thanks to this funding might never have happened.  Schumer explained that, since last August, Hudson Valley firefighters have already benefitted from over $4.4 million from the federal SAFER and AFG programs. The most recent awards were made this past Friday to Forestburgh Fire District No 1and Neversink Fire District, which were awarded grants of $38,250 and $37,500 respectively.  The largest award in the Hudson Valley this year was made to the New Rochelle Fire Department for 1.68 million to hire six new firefighters through the SAFER program.
In Putnam County, the Garrison Fire District received $78,328 in 2020 through the AFG program. With the new authorization, Schumer pledged to fight for even more funding for Putnam firefighters in the future. Two years ago, in Dutchess County, the Arlington Fire District received an AFG grant of $700,000 to send Arlington firefighters/EMTs to paramedic training, so they could become certified as state firefighter/paramedics. In September of 2020, the Yonkers Fire Department received the largest SAFER grant in New York State history - $11,580,930 to hire and train 30 new firefighters, saving Yonkers taxpayers $3 million per year.
A comprehensive list of New York's AFG awards can be found here and SAFER awards can be found here.
Specifically, the Fire Grants and Safety Act would reauthorize the U.S. Fire Administration, the Assistance to Firefighters Grants Program, and the Staffing for Adequate Fire and Emergency Response Grant Program through Fiscal Year (FY) 2030. The bill also extends the sunset for both SAFER and AFG from 2024 to 2032. The bill would increase the authorization for the U.S. Fire Administration by about $20 million, while maintain the authorized funding level for SAFER and AFG at $750 million, each.
The AFG and SAFER grant programs are both administered by the Department of Homeland Security's Federal Emergency Management Agency to provide competitive funding directly to fire departments and volunteer firefighter interest organizations to purchase essential equipment and help them increase the number of trained, "front line" firefighters available in their communities.
###